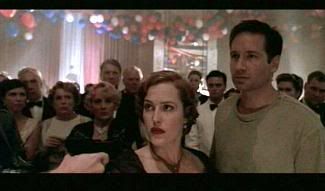 7.
Triangle
. (Season 6, Episode 3)
A fan favourite,
Triangle
is one of the most technically-difficult episodes of the series' run. Mulder goes searching for the long-lost Queen Anne, and finds it, to his surprise, to be in its original condition, as he is suddenly back in September 1939. He is pulled from the water by the sailors, who take him for a spy, and refuse to believe any of his story about this mysterious 1998..
The whole episode is a vague homage to
The Wizard of Oz
(which may be one of the reasons I love it), down to the names of a few characters (Yip Harburg, in particular). It also features various
X Files
regulars as different 'characters' in the situation, with the goodies still being goodies, and the baddies being, well, Nazis. It is interesting to hear CSM (the wonderful William B. Davis) speaking German and Scully is fantastic as a late-30s heroine. The characterisation is a little intriguing, however, with Kersh set up as the man who goes along with the administration, but rebels, which we know eventually happens.. (I have such trouble seeing him without thinking about
Grey's Anatomy
now!)
Often filmed in long single shots, the episode features some great slides and some technically brilliant moments, including one of my favourite shots in
X Files
history, where 1998 Scully in one split-screen crosses past 1939 Scully in the other. Oh watch it, I'm terrible at describing that.
The flip-side to this episode are the 1998 Scully moments, where she is approached by the Lone Gunmen and asked to track Mulder down. She asks Spender for help, almost falls over in the hallway by the office, kisses Skinner (!) in the elevator, almost screws herself over in front of Kersh and CSM, and is generally pretty badass.
We also get our first Mulder/Scully kiss, although as it is in an 'alternate universe', only Mulder remembers, so it doesn't really count. And of course, it is badly-lit. Because Chris likes to taunt us so. And then there's the end. The sweet, sweet ending. Our agents are reunited, and Mulder is okay because Scully saved his ass. There are
Wizard of Oz
moments, and he loves her. All in all, magic.
Memorable quotes:
Mulder:
Scully?
1939 Scully:
I suggest you get your Nazi paws off me before you get one in the kisser.
Skinner:
You're out of line, Scully.
Scully:
No, sir, you're out of line. I'm sorry, but I'm coming to you for help and I've got nowhere else to go. I would hope that after everything that we have been through that you would at least have the courtesy and the decency and not to mention the respect to listen to what I have to say. Now, all I need is information. You don't have to do anything else. Look, sir, if you know anybody at the Office of Naval Intelligence it would be of great help.
Skinner:
I could lose my job, my pension, I could even be subject to legal action. Use your head, Scully. It'll save your ass.
Scully:
Save your own ass, sir. You'll save your head along with it.
Scully:
I want you to do me a favor. It's not negotiable. Either you do it or I kill you. You understand?
Mulder:
You saved the world, Scully.
Scully:
Yeah... You're right. I did.
...
Mulder:
I would've never seen you again. But you believed me.
Scully:
In your dreams. Mulder, I want you to close your eyes and I want you to think to yourself "there's no place like home."
Mulder:
Mmm. Hey, Scully.
Scully:
Yes?
Mulder:
I love you.
Scully:
Oh, brother...
---
Honourable mention...
Detour
(Season 5, Episode 4)
People go missing in a Florida forest! Mulder and Scully discover the case at a road block! Mulder wants to do it, and of course Scully is roped in!
There are jokes about team-building and room service and people falling into holes. Invisible monsters. Being stuck in the wilderness. Mulder getting sick. Scully singing to him, so very joylessly. Innuendo. Cute Mulder quotes. Love love love.
Memorable quotes:
Mulder:
One of us has got to stay awake, Scully.
Scully:
You sleep, Mulder.
Mulder:
If you get tired, you wake me.
Scully:
I'm not going to get tired.
Mulder:
Why don't you sing.. something.
Scully:
No... Mulder.
Mulder:
Well, if you sing something, I'll know you're awake.
Scully:
Mulder, you don't want me to sing. I can't carry a tune.
Mulder:
It doesn't matter. Just sing anything.
Scully:
......... (slightly off key, no enthusiasm) Jeremiah was a bull frog ---
(Mulder's eyes pop open.)
Scully:
---was a good friend of mine. Never understood a single word he said... but I helped him drink his wine.
(Pause.)
Mulder:
Chorus.
Scully:
Joy. To the world. All. The boys and girls. Joy to the fishes in the deep blue sea. Joy to you and me.
More to come, folks, I'll get 'em done..